The Salish Sea is a transboundary region overseen by Canada, the United States and Washington State. Here is a broad look at the regulations regarding operating vessels around killer whales, specifically Southern Resident killer whales or orcas. Additionally, all marine mammals are protected in Canada and the United States. Humans and vessels are required to stay 100 metres/yards away from all other marine mammals.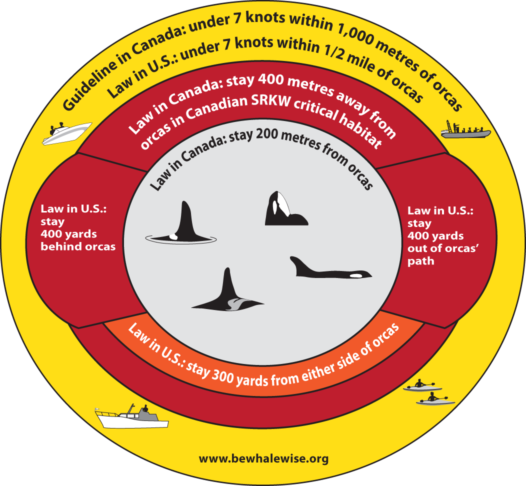 United States Regulations
In 2019, Washington's Governor Jay Inslee signed into law new regulations governing whale watching in the State of Washington. U.S. regulations require vessels to stay at least 300 yards away on either side of a Southern Resident Killer Whale's path and 400 yards out of the path, in front and behind the orcas. If an orca whale approaches your vessel within 300 yards, you must disengage your vessel's transmission and allow the whale to pass safely. See RCW 77.15.740 for more information.

Southern Resident Killer Whales In Canada, Southern Resident Killer Whales (SRKW) are listed as Endangered under the Species at Risk Act (SARA) and managed, in part, under the Marine Mammal Regulations of Canada's Fisheries Act. In May 2020, the Government of Canada announced management measures to support the recovery of the Southern Residents, including a range of mandatory and voluntary measures designed to support prey availability and reduce physical and acoustic disturbance to SRKW. Key management actions from 2020 include: Mandatory measures: 
Increasing distance between vessels and SRKW—maintaining a minimum approach distance of 400 metres from all killer whales in all southern BC coastal waters between the Campbell river and just north of Ucluelet. Vessels must stay 200 metres away from all killer whales in all other Canadian Pacific waters.
No commercial or recreational salmon fishing in designated closed areas located in key SRKW foraging areas in the Strait of Juan de Fuca and the Gulf Islands from August 1 to October 31, 2020.
Prohibition of general vessel traffic (with exemptions) from entering three Whale Sanctuaries / Interim Sanctuary Zones located at: Swiftsure Bank, off the east coast of Saturna Island, and south-west of North Pender Island (in effect from June 1 through November 30, 2020).
Voluntary measures:
In Canada:

Vessel speed reductions to less than 7 knots when within 1,000 metres of killer whales or orcas.
Turning echo sounders off when not in use and turning engines to neutral idle when within 400 metres of an orca
Stop fishing, where possible, within 1,000 metres of killer whales.
Download Canada's "Boating Around Killer Whales":
To learn more about all of the 2020 management measures visit: https://www.canada.ca/en/transport-canada/news/2020/05/government-of-canada-announces-second-year-of-enhanced-measures-to-protect-southern-resident-killer-whales.html
Marine Mammal Regulations The Canadian Marine Mammal Regulations were amended in 2018 and require the following to avoid disturbance to marine mammals.
Maintain a minimum approach distance of 200 metres to orcas in Pacific Canadian waters, and to any whales, dolphins or porpoises that are in resting position or accompanied by calves.*
Maintain a minimum approach distance of 100 metres to all other whales, dolphins and porpoises.
Do not approach a marine mammal to feed it, swim/interact with it, move it or entice it to move from its immediate vicinity, separate it from members of its group, or trap it between a vessel and the shore or between a vessel and one or more other vessels.
* Under the Interim Order for the Protection of Killer Whales (Orcinua orca) in the Waters of Southern British Columbia, 2020, specific approach distances are required for killer whales in certain areas: minimum approach distance of 400 metres from all killer whales in all southern BC waters between the Campbell river and just north of Ucluelet. The Marine Mammal Regulations also require reporting of any accidental contact between marine mammals and a vehicle or fishing gear to DFO (1-800-465-4336 or DFO.ORR-ONS.MPO@dfo-mpo-gc.ca). To learn more about the Marine Mammal Regulations visit: http://www.gazette.gc.ca/rp-pr/p2/2018/2018-07-11/html/sor-dors126-eng.html The Marine Education & Research Society (MERS) of Canada has created a campaign to provide further information about how to avoid collisions with marine mammals, called See A Blow? Go Slow! This reminds you that when you're out on the water and see a blow from a marine mammal, you should slow down and stay extra vigilant to see what direction the animals are traveling and how you can best position your vessel to maintain a safe distance from the whales and still enjoy the view. To find out more, visit https://mersociety.org/seeablowgoslow.